Career Developments Magazine
Career Developments, the NCDA quarterly magazine for members-only, is a themed publication offering articles that balance a broad vision with practical applications. Each issue offers a focused article on a select theme, a feature article on a prominent NCDA event, and specific content for departments that match the work settings of members.
In response to requests for "going green," the print magazine is now available to all NCDA Members in a digital format. We understand that many members enjoy holding the printed magazine in their hands after receiving it their mailbox. The print format is still available as a membership option. Those in the United States may opt to receive the print version, at no additional charge. Those from outside of the US may elect to receive a print copy for $15 annually. Please make your selection for print during your membership renewal process by using the membership form or accessing your profile under Members Only. Questions about this change may be directed to dpenn@ncda.org. We hope you enjoy the new digital option as part of your membership benefits!
"Career Development Around the World"
Spring 2023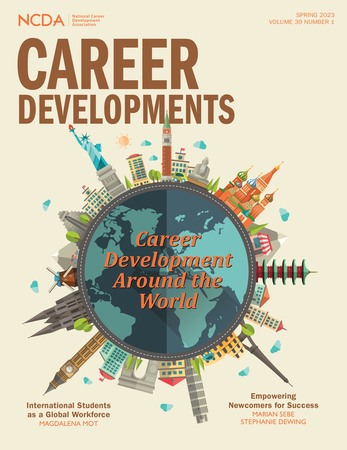 Table of Contents
Focus
International Students as a Global Workforce
By Magdalena Mot
Feature
The NCDA Global Career Development Conference
By Mary Ann Powell
Departments
School Counselors
School Counselor and Teacher Collaboration: Empowering Newcomers for Success
By Marian Sebe and Stephanie Dewing
Higher Education Highlights
Global Career Development: 8 Action Ideas for Addressing 4 Dynamics
By Brian Hutchison
Where Will NCDA Fit into Career Development Around the World?
By Jim Peacock
Columns
From the President:
NCDA's Impact on International Career Development
By Lakeisha Mathews
From the Executive Director:
Career Development Around the World
By Deneen Pennington
Thought Leaders Insights:
A Conversation with Satomi Yaji Chudasama
By Jenn Leard

NEW! In the States:
News and Announcements from State Divisions
By Stacy Van Horn
Ethics in a Nutshell:
An Ethical Approach to Global Development Around the World:
By David M. Reile and Sini Parampota
On the Web
By Melanie Reinersman
The Marketplace
Needs and Opportunities for International Career Development
By Charles Lehman
Save
Save
Save
Save
Save
(a members-only benefit)