Career Developments Magazine
Attention NCDA Members: Career Developments - members-only quarterly magazine now online!
The Career Developments magazine and the journal, the Career Development Quarterly, are a few of the many NCDA member benefits. In response to requests for "going green," the print magazine is now available to all NCDA Members in a digital format, just like the CDQ!
We understand that many members enjoy holding the printed magazine in their hands after receiving it their mailbox. The print format is still available. Those in the United States may opt to receive the print version, at no additional charge. Those from outside of the US may elect to receive a print copy for $15 annually. This price covers the ever increasing cost of postage.
Please make your selection during your membership renewal process by using the membership form or accessing your profile under Members Only Resources.
Questions about this change may be directed to dpenn@ncda.org. We hope you enjoy the new digital option as your membership benefit!
---
"Disrupt Career Development"
Fall/Winter 2020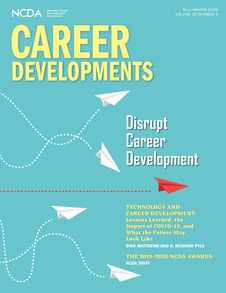 Disrupt is an information exchange designed to energize, inform and empower people in the field of career development.
---
Have you noticed some important changes to the magazine? Starting with the Winter 2019 issue, the magazine, the departments changed. Now we will not only offer our themed focus and feature article, but will include seven regular columns including:
Thought Leader Insights
Ethics in a Nutshell
On the Web
The Marketplace
Higher Education Highlights
Career Developments Bulletin
School Counselors
Our goal is to continue to provide timely and relevant information including insights on and analysis of current career counseling and development practice, theory, and resources.
Melissa Messer
Career Developments Editor
---
Members can read the full articles in the magazine.
Non-members are invited to join NCDA to receive this benefit, and lots more!
See the Table of Contents on the left sidebar. Watch your mailbox or login to the Members-Only section to view the current issue electronically.
---
Save
Save
Save
Save
Save
Career Developments
Fall/Winter 2020

Table of Contents
---
Focus
Technology and Career Development: Lessons Learned, the Impact of COVID-19, and What the Future May Look Like
By Dirk Matthews and K. Richard Pyle
Feature
The 2020 NCDA Awards
By NCDA Staff
Departments
School Counselors
Disrupt Career Exploration: The School Counselor's Role in an Online World
By Imelda N. Bratton and Sara Bender
Higher Education Highlights
Career Development and Going Pro Early: Disruption in Higher Education
By Amy Baus
Columns
From the President:
Challenges and Opportunities of Disruption
By Seth Hayden
From the Executive Director:
Career Development Disrupted
By Deneen Pennington
Thought Leader Insights:
A Conversation with Andy Chan
By Jenn Long Leard
Ethics in a Nutshell:
Critical Reflection as a Disruptive Habit of Excellence
By Billie Streufert
The Marketplace:
COVID-19's Impact on Global Employment
By Charles Lehman
On the Web
By Melanie Reinersman