Career Developments Magazine
Members: Watch your mailboxes for the current issue described below. This is a print-only, members-only resource!


"Career Development Theories: Informing Research and Practice"
Spring 2018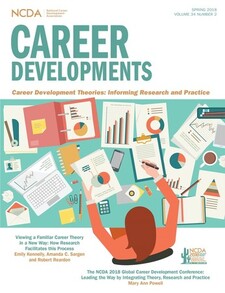 The usefulness of career theories for application in both practice and
research of career counseling has been discussed extensively in the
literature. In this issue, our contributors reflect on both established
as well as new and emerging career development theories across
diverse populations of clients and work environments. Additionally,
this issue provides insight into the importance of staying current with
new and emerging theories as well as being able to view established
theories in new and novel way.
We are also excited to present an overview of the upcoming NCDA Global Career
Development Conference that will take place June 21-23 in Phoenix, AZ. Members
of the Career Developments Editorial Board will be presenting the purpose and history
of the magazine, information on upcoming issues, and how NCDA members can
contribute to this important publication

Spring 2018 Focus Article:
Viewing a Familiar Career Theory in a New Way: How Research Facilitates this Process

by Emily Kennelly, Amanda C. Sargent, and Robert Reardon
Members can read the full article in the magazine.
Non-members are invited to join NCDA to receive this benefit, and lots more!
See the Table of Contents, on the left sidebar or below, and watch your mailbox for this issue.
---
Save
Save
Save
Save
Save
Career Developments
Spring 2018: "Career Development Theories: Informing Research and Practice"


Table of Contents
---
Focus
Viewing a Familiar Career Theory in a New Way: How Research Facilitates this Process
by Emily Kennelly, Amanda C. Sargent, and Robert Reardon
Feature
The NCDA 2018 Global Career Development Conference: Leading the Way by Integrating Theory, Research and Practice
by Mary Ann Powell
Columns
From the President:
Dancing with John Krumboltz
By Paul Timmins
NCDA Theorists Celebrities - Don't Miss the 2018 NCDA Conference
By Deneen Pennington
Thought Leader Insights: A Conversation with Tanya Garcia
By Jenn Long Leard
Ethics in a Nutshell: Ethical Considerations of Reading Research
By Greta Davis and Sharon K. Anderson
The Marketplace
By Charles Lehman
On the Web
By Melanie Reinersman
Departments
Professional Counselors & Specialists
CareerOneStop: Career Resources Integrated with Career Theory
By Sandy Donovan and Janet Wall
School Counselors
M.A.P.: A Model for Brief Solution-Focused Career Counseling in Schools
By Arden Szepe and Katie Maguire
Graduate Students
Suicidality and Career Counseling: Clinical Considerations and Training Options
By Philip Stoner
Facilitating Career Development
Employment Retention as a Remedy for Returning Veterans with Cognitive Impairment
By Bret Anderson
Higher Education
Chaos Theory of Careers & Designing Your Life
By Jon Schlesinger